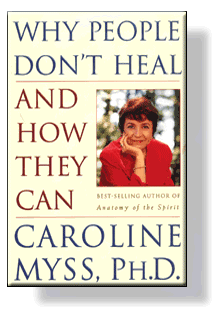 For more than fifteen years, Caroline Myss has studied why some people heal, while others do not. In her previous book, Anatomy of the Spirit, Dr. Myss illuminated the hidden interactions of belief and body, soul and cell. Now, in Why People Don't Heal and How They Can, she builds on her earlier teaching to reveal the cultural and individual contexts in which people become physically and spiritually ill.
For many people, illness can serve vital emotional and psychological needs. It can become an effective way of getting the attention they might otherwise not receive; it can ensure that they remain in a particular lifestyle or behavior pattern and avoid facing the chaos of change. Yet, as Dr. Myss points out, illness can also guide us onto a path of insight and learning upon which we would otherwise never have set foot.
Why People Don't Heal and How They Can brings together Dr. Myss's breakthrough views of energy medicine with a bold new account of the development of human consciousness and spirituality over the ages. Dr. Myss teaches you how to perceive the seven different energy centers of the body and interpret the spiritual challenges they present. She provides rituals and prayers for helping you see your present life symbolically, bolster your personal energy, and connect with divine energy, helping you get and stay on the path to wellness.
Through her characteristically no-nonsense style and high-voltage storytelling, Myss provides non-stop insights that teach you to disconnect from a culture of wounds and reconnect with an inner and outer spiritual energy and purpose. Dr. Myss's practical approach to healing life issues and physical illness will help readers overcome the mental and emotional blocks to becoming well.