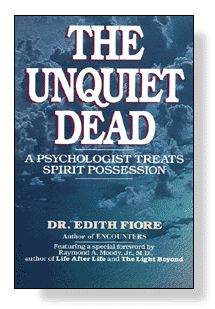 Spirit Possession has been reported since ancient times. Is it real?
Moved by the suffering of patients who came to her with seemingly incurable psychological and psychosomatic problems, noted psychologist Dr. Edith Fiore began to explore beyond the boundaries of traditional psychology and made a startling discovery: a significant number of her patients were suffering from spirit possession, a condition that no amount of orthodox treatment could cure.
Depression, phobias, addiction - these and other disorders can be caused by spirits who, after death, remained in the physical world as "displace persons", inhabiting the bodies and minds of those still living. The Unquiet Dead is filled with the case histories of these patients, along with details of Dr. Fiore's hypnotherapeutic methods.
Dr. Fiore fully explains how to:
•
Detect spirit possession in yourself and others
•
Protect yourself from entities
•
Release your home from displaced spirits
•
Do a depossession
•
And much, much more
The Unquiet Dead offers a new and facinating look at the obstacles to peace of mind and spiritual health that can afflict any of us in this life.