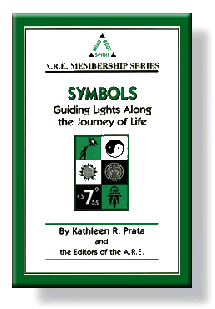 In every moment of the day, the universe is speaking to us, not in a language familiar to our own ears, but in the language of the soul. Through symbolic images and patterns arising from our inner and outer worlds, we are asked to develop a deeper understanding of our soul's purpose according to the Divine Plan.
Often, symbols lead us directly to new homes, new loves, or new jobs. At other times, our higher self uses these images to challenge us to follow the mystery of our unfolding journey. These signs, emblems, and true symbols or archetypes come to our awareness through casual conversations, songs, gifts, dreams, animals that cross our paths, and even our "Freudian slips". In fact, Edgar Cayce suggested that we utilize symbols to measure our spiritual growth.
This new book invites us to use personal symbols to fulfill our soul's mission. It includes examples of symbols from Cayce's readings, exercises to identify personal symbols, and a symbols dictionary.