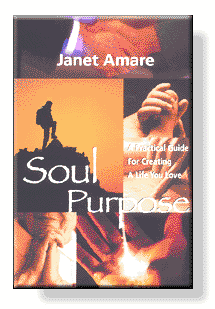 At a time when job concerns are among the biggest issues for most North Americans, coach and healer Janet Amare helps you discover that you can create a job that's much more than financially successful. You can create your Soul Purpose - the work you really love. Your Soul Purpose is not a doing thing; it's a being thing, It's about being the person you choose to be. Soul Purpose presents a time-tested pathway for identifying those things that will bring you fulfilment, as well as guidelines for clearing whatever is in the way. In each chapter there are practical questions for self-examination, and tools for transforming your beliefs and actions.
Soul Purpose: A Practical Guide For Creating A Life You Love guides you through:
• Nine steps for analyzing your life experiences to identify and describe your Soul Purpose;
• Understanding the universal principles to guide you in creating a fulfilling, meaningful, successful, and practical life;
• The six classic issues that take you away from or move you towards your Soul Purpose.
Everyone, from young students to senior executives, can find motivation, encouragement, and guidance to create their lives based on what they love to do.