Secrets of the Ancient World
Exploring the Insights of America's Most Well-Documented Psychic, Edgar Cayce
Lora M. Little, Gregory L. Little, and John Van Auken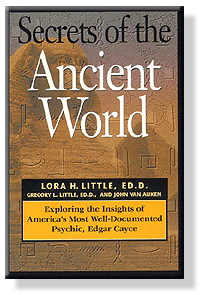 Join Lora Little, Greg Little, and John Van Auken as they take you through the ages to examine some of the most incredible mysteries of time and space.
Secrets of the Ancient World is a book that looks at curious people, places, and objects, as they were addressed in the Edgar Cayce readings.
From the lost world of Atlantis to the pyramids in Egypt, the authors examine these mysteries in depth, using the material from the American mystic Edgar Cayce as well as firsthand research.
This book is an eye-opener for any reader seeking answers to these intriguing mysteries.
Table of Contents
1.
2.
3.
4.
5.
6.

7.

8.

9.
10.
11.
12.

13.
14.

15.
16.
17.
18.
19.

20.

21.
22.
23.
24.
25.

26.
27.
28.

29.
Introduction
Origin of the Races: Oneness in Diversity
Lilith and Amilius: Ancient Legends and a Plan
Eve and Adam: A New Body Type
Noah's Flood: Truth or Fiction?
Genetics Research: Will It Confirm Cayce's
Atlantis and Mu?
The Search for the Halls of Records: Egypt,
Yucatan, and Bimini
Honeycombed Mountains and Perpetual Fires:
Memorials to Ra Ta?
The Pyramids: Where Was the First?
The Pyramids: How Were the Stones Moved?
The Pyramids: Who Built Teotihuacán?
The Great Wall of Peru and the Mysterious
Ohums: Cayce on South America
Cayce's Ancient India: Has It Been Discovered?
America's Mound Builders: Cayce's
"Impossible" Chronology
Egyptians in Ancient America: Was Cayce Correct?
Odin: Norse God or King?
The Tower of Babel: An Atlantean Legend?
Sodom and Gomorrah: Legend or History?
The Mysterious Oracle Stones: The Urim
and Thummim
The Parting of the Red Sea: Were Remains of
Pharaoh's Army Found?
Mary: Immaculate Conception and Apparitions
Wise Men from the East: The Rest of the Story
Resurrrection and Regeneration: Available to All?
The Pentecost: Speaking with Tongues of Fire
El Camino de Santiago: Shrine of St. James
or Atlantean Link?
Paradise: Where and When?
The Mystery of the Second Coming
earth Changes, Quantum Physics, and the
Science of Prophecy
The Fifth Root race and 2004
p. 1
p. 8
p. 18
p. 29
p. 38
p. 45

p. 55

p. 69

p. 82
p. 92
p. 99
p. 105

p. 113
p. 122

p. 131
p. 137
p. 143
p. 150
p. 157

p. 166

p. 169
p. 180
p. 186
p. 192
p. 199

p. 206
p. 211
p. 215

p. 220
Endnotes
Index
p. 225
p. 245