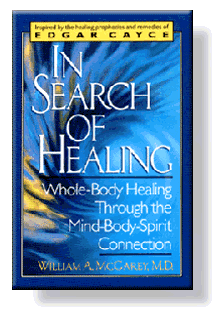 Healing through awareness
Edgar Cayce rose to fame at the turn of the century as a "psychic diagnostician", astounding the medical community with his uncanny ability to diagnose illness and prescribe treatment. Defining the Spirit as the power to bring about healing, the Mind as the power to determine how one needs to be healed, and the Body as the location where energies and spirit combine, Cayce's philosophy rocked the foundations of conventional medicine. Today, some fifty years after his death, Cayce's work is being rediscoverd by new generations who recognize that the mind-body-spirit connection is a requisite for total well-being.
In Search of Healing is the complete guidebook for whole-body health, as practiced by Dr. William McGarey, who has used Edgar Cayce's teachings for more than thirty years as a basis for healing all types of illness. An understanding of the atoms, cells, organs, and systems within the body, as well as awakening the consciousness to the Divine, enables the healing process to begin. This book also explains how Cayce's simple home remedies, combined with non-invasive procedures such as touch and massage, enable the perfect balance of mind, body and spirit.