Ross Peterson: The New Edgar Cayce
Allen Spraggett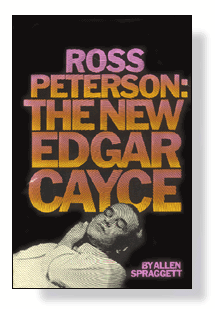 From deep trance, the mind of the psychic reaches out thousands of miles to a person he has never met, never before even heard of, and correctly diagnoses disease and psychosis and prescribes treatment. A fraud? Impossible? Not according to hundreds of well-documented observations of the work of Ross Peterson, a man whose past misadventures with six wives and a jail record seemed a most unlikely preparation for a psychic physician.
But prepared he was, ready for anything, when he discovered the work and teachings of Edgar Cayce, a famous and still much beloved psychic doctor, though long dead. Applying Edgar Cayce's methods, Peterson uncovered his own psychic abilities.
This extremely candid biography examines the overwhelming evidence and reveals the most startling fact of all—that the amazing powers shared by Peterson and Cayce may exist within all of us, waiting to be developed by anyone who can apply all the untapped resources of the human mind. These powers are within you.
Table of Contents
Foreword
Overture
vii
p. 1
Chapter One:
Chapter Two:
Chapter Three:
Chapter Four:
Chapter Five:
Chapter Six:
Chapter Seven:
Chapter Eight:
Chapter Nine:
Chapter Ten:
Chapter Eleven:

Chapter Twelve:
Chapter Thirteen:
Chapter Fourteen:
Tested on Television
The Unlikely Seer
The Making of a Seer
The Seer Meets a Psychologist
A Medical Assessment of the Seer
The Karmic Bookkeeper
The Seer's Successes: Some Case Histories
A Psychic Pharmacopoeia and Guide to Good Health
The Interpreter of Dreams
Readings About God and an Afterlife
What the Readings Teach About Marriage, Divorce, Abortion, and Sex and Sainthood
The Shape of Things that Were
The Shape of Things to Come
How to Become Your Own Seer
p. 5
p. 14
p. 26
p. 39
p. 50
p. 72
p. 83
p. 98
p. 115
p. 133
p. 145

p. 154
p. 162
p. 166