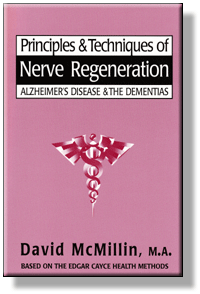 While medical science is only just beginning to research the possibility of nerve regeneration, the Cayce discourses advise that nerve tissue can be rebuilt through the use of electro-therapy and by careful monitoring of the vegetative processes of assimilation, elimination, and circulation.
A companion book to Alzheimer's Disease and the Dementias: An Alternative Perspective, this book focuses on techniques for rebuilding the biological damage of the nervous system caused by these disorders, through the application of the treatments suggested in the Edgar Cayce material.
Especially suited for health care professionals interested in assisting in the treatment of dementia from the Cayce perspective, the book outlines the uses of osteopathy, massage, and lymphatic drainage, and provides a specific model for treatment for caregivers and practitioners.