Your Dream of Recovery
Dream Interpretation and the 12 Steps
Shelly Marshall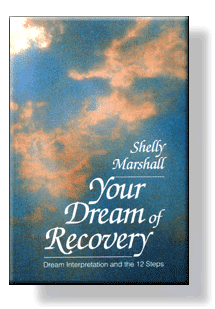 A ground-breaking book on dream interpretation for anyone working toward recovery in a 12-Step program.
You will actually learn how to use your dreams to enhance recovery, sobriety, and spirituality as you work each of the 12 Steps. The book provides innovative tools that will help you:

•
Understand the meaning of your dreams

•
Use your dreams for recovery

•
Create a personal dream glossary

•
Start a 12-Step dreamwork group

•
Use prayer and meditation effectively
Shelly Marshall is the internationally known author of six recovery books that have sold over two million copies. In this book she uses personal anecdotes as well as spiritual principles from the work of Edgar Cayce and scores of dreams with interpretations by actual 12-Step participants, making this book an invaluable tool.

Table of Contents
Preface
Acknowledgments
ix
xiii

Part I - Dreaming for Recovery

1Dreaming for Recovery
2Processing Your Dream Messages
3Dreamwork and 12-Step Enhancement
4Forming a 12-Step Dreamwork Group
p. 1
p. 14
p. 37
p. 54

Part II - Your Dreamwork Glossary and How to Use It

Your Dreamwork Glossary
The Four Elements: Earth, Water, Air, and Fire
Colors
Numbers
Animate Objects (Domestic and Wild Animals, Birds,
Marine Life, and Insects)
Behavior and Activity (Includes Sexual Dreams)
Clothes, Accessories and Jewelry
Figures and Features
Plants
Health, Illness, and Death
Inanimate Objects (All "Things" Not Listed Elsewhere)
Spiritual Symbols
Vehicles and Buildings
p. 75
p. 78
p. 87
p. 91
p. 97

p. 101
p. 104
p. 107
p. 111
p. 113
p. 116
p. 119
p. 121

Part III - Dreams from the Fellowship

Dreams from the Fellowship
Pre-program Dreams
Examine Ourselves and Be Honest
Trust and Rely on God
Take Meritorious and Moral Action
Service to Others
Relapse Dreams
Reassurance and Encouragement
Humor
Death and Rebirth
Precognition and Warnings
p. 127
p. 131
p. 136
p. 144
p. 153
p. 160
p. 165
p. 172
p. 176
p. 178
p. 181
Appendix IListing Your 12-Step Principles
Appendix IIPun Fun in Dreams
Appendix IIIThe 12 Steps of Alcoholics Anonymous
Appendix IVThe 12 Traditions of Alcoholics Anonymous
Endnotes
Bibliography
Resource Directory
Index
p. 185
p. 189
p. 199
p. 201
p. 203
p. 205
p. 211
p. 213
| | |
| --- | --- |
| Order from Amazon.com: | Paperback Price: $14.95 |
If this book is out of print and not available any more with amazon.com, try either powells.com or abebooks.com below. If they dont't have it, they will search into a network of second-hand bookstores until they find it for you.