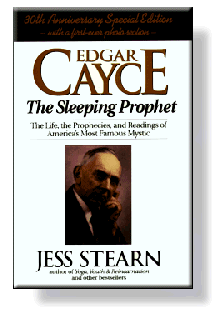 The Edgar Cayce story is one of the most compelling in inspirational literature. For more than forty years the "Sleeping Prophet" closed his eyes, entered an altered state of consciousness, and spoke to the very heart and spirit of mankind on subjects such as health, healing, dreams, meditation, and reincarnation. His more than fourteen thousand readings are preserved at the Association for Research and Enlightenment.
Dare we believe his prophecies?
A native of Kentucky with a ninth-grade education,Edgar Cayce accurately predicted two world wars, including the years they began and ended, racial strife in America, the death of John F. Kennedy, and hundreds of other recorded events. He could apparently travel in time and space to treat the ill, and dispensed information that led to innumerable cures where traditional medicine was helpless. The first to introduce many Americans to the concept of reincarnation, Cayce drew on a subsconsicous Universal Mind for startling information about past and future. In The Sleeping Prophet, Jess Stearn presents the extraordinary story of his life, his healing, his prophecies, and his powerful legacy.