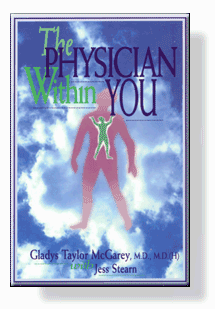 In The Physician Within You, Dr. Gladys Taylor McGarey shares the guiding philosophy of her 50-year medical practice. The real-life stories of her patients dramatically illustrate the potential of Dr. McGarey's humane and wise approach to medical care and give you an exhilarating glimpse of the future of medicine.
By taking responsibility for their own health, accepting full partnership with their physicians, and being open to alternative healing modalities, these patients are healed into life or ushered into death with grace and dignity.
In this fascinating book, Dr. McGarey shows you how to access your own inner healer -- that natural healing process inherent in every human being -- and live a fuller, more meaningful life.