Edgar Cayce's Story of the Old Testament - Vol. 1
From the Birth of Souls to the Death of Moses
Robert W. Krajenke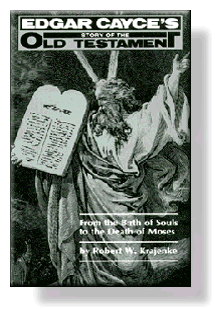 The Bible is a Book of Life, and we are all a part of the story. This remarkable philosophy comes from one of the greatest prophets of the 20th century, Edgar Cayce. Cayce read the Bible cover to cover once for every year of his life, and made its wisdom and truth the foundation of his life. The Bible is also a constant theme in the 14,145 documented Edgar Cayce psychic readings.
According to these readings, the Bible is a sourcebook for spiritual development - and applies to every facet of your life. The Edgar Cayce "Story of the Old Testament" depicts the Bible as more than a history of a people. It shows it as a pattern of the mind's unfoldment and portrays the soul's journey back to its source.
Beginning with the story of Genesis and the creation of souls, you will follow the great drama of rebellion and separation as the souls descend into matter and forget who they really are! Discover how a powerful plan, working throughout all of history, was set in motion to restore humanity's fallen consciousness to the true heritage as spiritual beings. You will also discover the stories and challenges of modern-day people who were told in their personal Edgar Cayce readings that they had lived in Biblical times.
Table of Contents
Foreword
Introduction
Overview: From Genesis to The Revelation
Prologue
ix
xi
xviii
xxi
In God's Mind A Spiritual Creation
The Coming of Adam
The Fall of Man
Cain and Abel: Hostile Brothers
The Deluge: Division and Dissent
The Tower of Babel
Abraham, Isaac, and Jacob
Joseph: Forerunner of the Christ
Exodus
The Relevance and Significance of the Phenomena
and Philosophy of Edgar Cayce Today
p. 1
p. 23
p. 45
p. 55
p. 73
p. 97
p. 103
p. 141
p. 151
p. 253