Dreams, Your Magic Mirror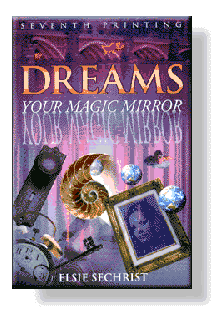 The World of Dreams Revealed.
Deep below the level of consciousness runs a vast river of knowledge and power that we contact only through our dreams. To tap this infinite source of wisdom and strength was a central project of the amazing Edgar Cayce, the world's foremost psychic explorer.
Cayce's leading follower and lifetime student Elsie Sechrist has written a book that reveals Cayce's findings and her own exciting personal research. This book tells you in specific terms what every kind of dream really means, whether it deals with sex, money, death, love, or any one of countless other sensitive psychic pressure points.
Table of Contents
Foreword by Hugh Lynn Cayce
Preface
vii
ix
1
2
3
4
5
6
7
8
9
10
11
12
13
14
15
16
17
18
19
20
21
22
23
24
25
Reflections of the Future on the Mirror of Your Mind
Interpreting Your Dreams
Extrasensory Perception (ESP) in Dreams
Insight Through Signs and Messages
Business Guidance Through Dreams
People You Meet in Your Dreams
The Meaning of Faces and Features in Dreams
Dreams of Health and Illness
Communications with the Dead in Dreams
Automobiles as Symbols
Positions and Activities in Dreams
Sex Dreams
Houses and Buildings
Clothes, Shoes, Gloves, Hands and Feet
Money, Jewels, and Other Treasures
The Cross and Other Spiritual Symbols
Religious Figures
Lessons in Living Through Dreams
The Four Elements: Water, Fire, Air, Earth
Nature in Dreams
Birds
Animals
Insects and Marine Life
Dreams of Death
Colors, Numbers, Times, Mandalas, and Meanders
p. 1
p. 10
p. 22
p. 34
p. 37
p. 43
p. 57
p. 65
p. 78
p. 83
p. 87
p. 93
p. 98
p. 119
p. 129
p. 135
p. 141
p. 150
p. 160
p. 170
p. 178
p. 184
p. 202
p. 211
p. 216
Endnotes
Index
p. 225
p. 227
| | |
| --- | --- |
| Order from Amazon Books: | Click here Price: &nbsp$12.71 |
If this book is out of print and not available any more with amazon.com, try abebooks.com below. If they dont't have it, they will search into a network of second-hand bookstores until they find it for you.