Jesus, A Closer Walk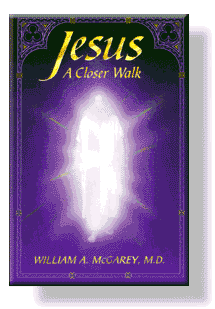 Have you ever wondered how to grasp the wonderful lessons for soul growth in the Bible that seem sometimes to be hidden? Edgar Cayce, America's best-documented psychic, read the Bible once for every year he lived. His psychic readings reflect this devotion as they frequently quoted his beloved Bible - and often they recommended specifically that seekers after spiritual truth read John 14-17.
Dr. William A. McGarey, longtime student of both the spiritual and the physical information in the readings, delves into these chapters, using three versions of the Bible and the Edgar Cayce readings for insights into the central message of the New Testament. He examines the words of Jesus who became the Christ and outlines from his own experience the steps toward spiritual growth that the Bible and the Cayce material provide.
From the concept of "Ask in His Name Believing" to the promises of the Christ, the author explores the wealth of inspirational material in John 14-17 and in the Cayce readings that refer to these chapters.
Table of Contents
Preface
Introduction: A Challenge to You, the Reader
vii
ix
1
The Start of Our Journey
p. 1
2
The Gospel of John, Chapter 14
Promises - Do We Believe Them?
Success and Attunement
He Is the Way
Have You Seen the Father?
Belief of Commitment
Ask in His Name, Believing
A Commandment to Love - Very Simple!
To Be Obedient Is to Experience True Life
How Do We Learn Obedience?
p. 7
p. 13
p. 17
p. 20
p. 28
p. 32
P. 36
P. 40
P. 49
P. 65
3
The Gospel of John, Chapter 15
To Dwell in Him Is to Recognize Who We Are
Fear Blocks Our Inheritance
How Do We Make Love a Living Thing?
p. 72
p. 79
p. 94
p. 102
4
The Gospel of John, Chapter 16
Love Made Him the Savior of the World

Ask, That Your Joy May be Full
p. 113
p. 119
p. 129
5
What Is Eternal Life?
Glorified Before the World Began
What About the One That Must Be Lost,
the Son of Perdition?
They Are Strangers in the World, as I Am
The Light That Never Fails
p. 137
p. 140
p. 143
p. 152
p. 158
p. 167
6
What Do We Do With This Man, Jesus?
How Do I See Jesus the Christ?
What Do I Do with This Man, Jesus?
p. 170
p. 171
p. 173
If this book is out of print and not available any more with amazon.com, try either powells.com or abebooks.com below. If they dont't have it, they will search into a network of second-hand bookstores until they find it for you.