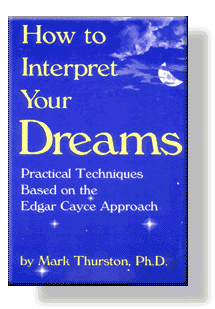 How to Interpret Your Dreams is a roadmap to greater self-knowledge through dream interpretation. Dr. Mark Thurston has combined insights from the hundreds of Edgar Cayce readings on dreams with his own background in dream interpretation to give us a clearly written, easy-to-understand spiritual handbook. The author explains:
- How to find and use the important ideas presented in your dream
-The part feelings play in overall dream interpretation
- How to work with and break down the symbols
- The keys to knowing if your dream is telepathic
- How to get specific answers to problems
The appealing "Exercises in Application", which conclude each chapter, provide practical ways to use the dream concepts in daily life. Suggestions for keeping a dream journal and techniques for remembering dreams are also given.
Properly used, this book can be a window inward to enrich your life through dream interpretation.