The Intelligent Heart
Transform Your Life with the Laws of Love
David McArthur & Bruce McArthur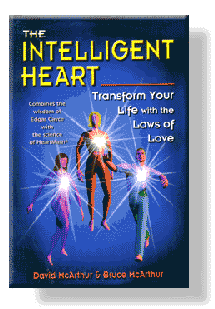 The laws of love increase happiness, heal sorrow and regret, and bond people in healthy, life-enhancing relationships. Friends, lovers, parents, children, co-workers, and strangers will all be affected by your use of these simple yet powerful laws of love.
A simple five-step process is all it takes to change your heart. Scientific evidence from the Institute of HeartMath's® electrophysiology lab reveals that your ECG (heart rythm) physically changes as you apply these simple laws. Happiness and health are within your reach each day, in any situation.
Free yourself of those heart-matters that age you. Whether a parent, spouse, or friend, you can be young-at-heart and happy in life.
Table of Contents
Acknowledgements
Introduction
Usage of the Edgar Cayce Readings
ix
xi
xv
1 The Universal Laws
2 Discovering Dimensions of the Law
3 The Law of Love
4 Attunement
5 How to Love
6 The Law of Giving
7 Freedom Through Forgiveness
8 The Law of Wisdom
9 The Master Law of Relationships
10 The Law of Faith
11 Attunement Through Mercy and Balance
12 The Laws of One, Enlightenment, and Becoming
13 Grace
p. 1
p. 13
p. 29
p. 46
p. 65
p. 88
p. 105
p. 118
p. 142
p. 164
p. 181
p. 193
p. 207
Conclusion
Notes
p. 219
p. 221
| | | | |
| --- | --- | --- | --- |
| Order from Amazon.com: | | Paperback | $12.95 $11.66 |