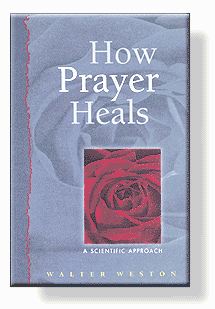 People have been healing themselves and others through prayer for untold generations, but only recently has science begun to realize how prayer actually works. In this remarkable study, Methodist minister Walter Weston presents a model of human energy fields, and how they affect our well-being. He explores how these energy fields interact, how they are influenced by individuals and groups, and how they can be directed by prayer to restore emotional and physical health.
Based over twenty years of experience as a healer and researcher, Weston skillfully guides you through his practical approach to healing. Through his research, he has developed techniques that center on the influence of energy fields on healing, Emotional Release Therapy, and the positive influence of prayer.
In this guide, you will:

•
Discover the relationship between therapeutic prayer and holistic medicine;

•
Explore the human energy field paradigm;

•
Examine the traits of an effective healer;

•
Learn how science can serve to clarify religious beliefs.
This practical manual on the therapeutic power of prayer de-mystifies healing, establishes a model of healing based on human energy fields, and points the way to the future of holistic medicine.