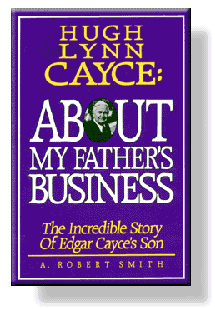 Hugh Lynn Cayce, the late son of world-famous psychic Edgar Cayce, had a storied love/hate relationship with his father, a man who could heal the sick, read people's minds, and forecast the future. Ultimately, Hugh Lynn was the driving force in guiding the Association for Research and Enlightenment (A.R.E.) to its level of prominence today, having presided over the dedication of a major library, research, and visitors' center in 1975 -- thirty years after Edgar's death -- and an increase in membership that now boasts nearly 100,000 people worldwide.
In this major new exploration into the Cayce legend, Hugh Lynn tells his story -- a revealing, critical, honest, and loving portrait that will shed new light on Edgar Cayce, the man, as no previous work has done.
Revealed through personal letters, diaries, and Edgar's own unpublished memoirs, as well as nearly two years of interviews with Hugh Lynn, My father is a fascinating story complete with a DeMille-like cast of characters, drawn to the Cayces from Wall Street and Main Street, from the worlds of business and the arts to the ashrams of mystics and academia.
No one has, or could, describe Edgar Cayce in more revealing detail and with greater insight!