How to Meet God Face to Face
Key Cayce Concepts with Commentary
Herbert B. Puryear, Ph.D., Mark Thurston, Ph.D., Henry Reed, Ph.D.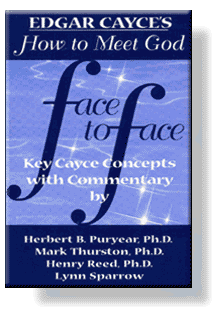 Understand the mission of your soul, how to consciously connect with God, laws of spiritual healing, fulfilling your ideals, awakening latent talents, and setting a blueprint for a new year, a new life.
Major Cayce readings are explained and developed by some of the best teachers, writers and speakers on cayce topics. This combination provides you with a way to move from "seeing through a glass darkly" to meeting God in yourself "face to face".
Table of Contents
The Work
The Mission of the Soul
Meditation, Part I
Meditation, Part II
The Wheel of the Law
The Laws of Spiritual Healing
Fulfilling Your Ideals in Life
Using Talents of the Soul
Awakening the Human Will
The Sleeping Talent
The Source of Psychic Ability
Developing Psychic Ability
A Blueprint for the New Year
Herbert B. Puryear
Herbert B. Puryear
Herbert B. Puryear
Herbert B. Puryear
Violet M. Shelley
Herbert B. Puryear
Mark A. Thurston
Mark A. Thurston
Mark Thurston
Henry Reed
Henry Reed
Henry Reed
Lynn Sparrow
p. 1
p. 15
p. 31
p. 45
p. 58
p. 73
p. 86
p. 101
p. 116
p. 130
p. 147
p. 162
p. 175
If this book is out of print and not available any more from amazon.com, try either powells.com or abebooks.com below. If they dont't have it, they will search into a network of second-hand bookstores until they find it for you.