Edgar Cayce on Healing
Dramatic cases of healing brought about by Edgar Cayce's readings, considered in the light of modern medicine
Mary Ellen Carter and William A. McGarey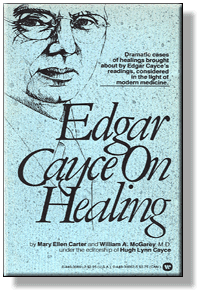 The 20th century history of parapsychology will probably catalogue Edgar Cayce, one of America's best documented psychics, as a medical telepathist.
Of the more than 14,000 Edgar Cayce Readings recorded, nearly 9,000 deal with matters of health. Cayce's ability to diagnose, while in trance, the physical disorders of a person he had never met, who might be hundreds of miles away, and then suggest effective treatment, remains one of the most astonishing psychic feats of all times.
In Edgar Cayce on Healing, a dozen of these cases are scrutinized by a professional writer, Mary Ellen Carter, and a modern doctor of medicine, William A. McGarey. What sort of person consulted Edgar Cayce? What did the readings mean to those who received them? What light does the quarter-century of medical advance since Cayce's death shed on his often-unorthodox recommendations for treatment? The often-surprising answers make this book fascinating reading for everyone interested in Edgar Cayce, in psychic phenomena and in medical science.
Table of Contents
Foreword by Hugh Lynn Cayce
Introduction by William A, McGarey, M.D.
p. 7
p. 11
Personal Narratives by Mary Ellen Carter and Medical Commentaries by William A. McGarey, M.D.
1.
The Lady Who Was Turning To Stone
Medical Commentary: Scleroderma
p. 19
p. 32
2.
A Friend, Snatched From Death
Medical Commentary: Streptococcus
p. 42
p. 49
3.
A Mother's Ordeal
Medical Commentary: Incoordination
p. 58
p. 67
4.
The Turning Point
Medical Commentary: Peritonitis, Gangrene
p. 76
p. 85
5.
Grandmother Takes a Hand
Medical Commentary: Ear Infection
p. 91
p. 96
6.
Tell Them The Lame Walk
Medical Commentary: Perthe's Disease
p. 103
p. 111
7.
No Surgery for Ken!
Medical Commentary: Appendicitis
p. 120
p. 124
8.
Teen-Age Arthritic
Medical Commentary: Appendicitis
p. 132
p. 145
9.
For Leonore, "The Glory"
Medical Commentary: Infertility
p. 150
p. 156
10.
Maytime Malady
Medical Commentary: Debilitation
p. 163
p. 170
11.
Call This A Miracle
Medical Commentary: Cerebral Palsy
p. 175
p. 181
12.
For Life Itself Is A Service
Medical Commentary: Paralysis
p. 187
p. 197
The A.R.E. Today
p. 204