Edgar Cayce's Secrets of Astrology
Insights into the Charts of Edgar Cayce, Jesus Christ, Presidents, Nations, and World Events
Kirk Nelson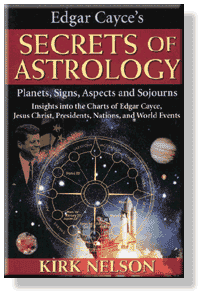 Discover the astrological secrets of Jesus, John F. Kennedy, and Edgar Cayce.
Kirk Nelson offers new insights into Cayce's psychic readings on planets, aspects, signs and what they mean to you.
Cayce's unique perspective on astrology reveals the concept of planetary sojourns -- the spiritual experiences of souls between lives -- and how to determine your soul's mission by the positions of the planets in your chart. Cayce's own birth chart is examined in relation to his past lives, to demonstrate how planetary sojourns played out in his life.
This book contains:
- the birth chart of Jesus according to the Edgar Cayce readings
- a new way of determining past-life influences in your birth chart
- easy-to-understand explanations of each sign, planet and aspect
- the astrological influences of dramatic world events such as D-Day, the bombing of Hiroshima, the Challenger explosion, the tragedy at Waco, the Summer of Love, and more...
The book also contains the charts of U.S. presidents Kennedy, Nixon, and Reagan, highlighting many of the events that occurred during their careers. The author also sheds light on the charts of China, Russia, and the United States.
Table of Contents
Illustrations
Author's Note
ix
xi
1
2
3
4
5
6
7
8
9
Edgar Cayce
Cayce's View of Astrology
The Signs
The Planets
The Aspects
Edgar Cayce's Planetary Sojourns
The Astrology of Jesus
The Astrology of Presidents and Nations
The Astrology of World Events
p. 1
p. 7
p. 24
p. 51
p. 96
p. 103
p. 119
p. 133
p. 168