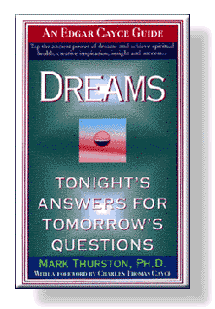 Change your life overnight!
In his lifetime, American spiritual leader Edgar Cayce pioneered the practical study of dreams and helped thousands unlock the revelations they contain. Now, experienced dream teacher Mark Thurston, Ph. D., interprets Cayce's carefully preserved writings to help readers build their spiritual power through the mysterious wisdom of dreams.
Illuminated with dozens of Cayce's actual dream readings, Dreams includes:
- Simple methods to interpret the literal and symbolic meanings of dreams.
- Exercises to expand your innate capacity to dream and remember dreams.
- Techniques for using dreams to predict - and change - your future.
- The Edgar Cayce Dream Symbol Dictionary - a comprehensive reference guide to dream interpretation that will help you develop your personal dream vocabulary.