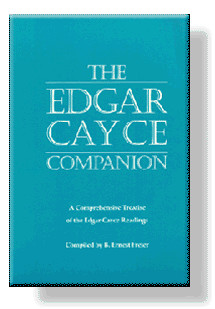 This unique volume is the single most extensive reference book existing on the Edgar Cayce readings.
Representing years of patient research and compilation, it contains 264 separate topics with a very detailed index of names, subjects and ideas.
The reader will find here the most important excerpts from the readings, carefully selected to convey the information Edgar Cayce shared on many topics. The format adopted also emphasizes key concepts, making it easy to locate specific information.
The author of this 500-page treatise is professor B. Ernest Frejer, from the University of Guelph in Ontario, Canada. Of his impressive achievement, A. Robert Smith, editor of Venture Inward, stated "If the Reader's Digest were to publish a book on the Cayce readings, this is what it would be like - and it would be a winner." Later he added "On a single page you will find a manifesto of such awesome proportions as to leave you breathless."
For her part, Jeannette M. Thomas, Administrator of Records of the Edgar Cayce Foundation, stated: "The excerpts have the highest possible specificity level, which correctly reflects what the readings have to say on a given subject."
Whether new to the Edgar Cayce readings or an old hand at studying his material, the reader will find The Edgar Cayce Companion an invaluable resource to turn to over and over again.