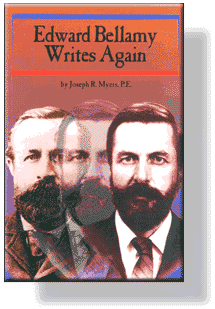 From the Introduction:
"Imagine having the opportunity to read a book that you had written seventy-five years previously and a biography of your own life as an author which had ended sixty-five years before! Then, imagine trying to improve upon that book and that life. Could anyone possibly have such an experience?

Bellamy Writes Again is precisely the example of such an experience, in this author's opinion. Edward Bellamy's novel, Looking Backward , and its sequel, Equality , were written to offer a political philosophy which the author hoped would have a practical effect to improve the lot of posterity. In order to present his philosophy in a highly readable form, he wrote in the language and style to which he thought the public would respond. He gave it somewhat of a plot so that it could be classified as a Utopian romance, a work of fiction. But, behind it were years of thinking and concern with the problem of political inequality, injustice and poverty in America and throughout the world.

... This new work, Bellamy Writes Again, is an attempt to improve upon Looking Backward.

... While the objective of these two books is the same, that is, to make a contribution toward the establishment of a Utopian form of government, their approach is quite different. Both are a philosophical work thinly disguised as a work of fiction in the form of a Utopian romance. Bellamy deals with the idea that analyzing the problem and proposing practical solutions in the form of social and political action will bring improvements. Observing the failure of such an approach with the perspective of a man living almost a hundred years later has inspired a different approach to the whole question. "