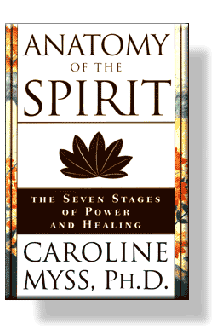 Anatomy of the Spirit is the boldest presentation to date of energy medicine by one of its premier practitioners, internationally acclaimed medical intuitive and motivational speaker Caroline Myss. Through her workshops, books, videos, and audiotapes, Dr. Myss (who is able to diagnose illness by intuitive means) has motivated people to examine their souls and improve their health.
This breakthrough view of mind, body, and spirit, based on fifteen years of research into energy medicine, presents a unique program for promoting spontaneous physical, emotional, and spiritual healing. Anatomy of the Spirit shows the links between emotional and spiritual stresses and specific illnesses in the context of the anatomy of the human energy system. Dr. Myss's system of energy medicine will teach you the specific emotional, psychological, and physical factors that lie at the root of illness. For example, fears regarding financial matters affect the health of the lower back; emotional barriers to experiencing love undermine the health of the heart; a strong need to control others or your environment influences the health of the sexual areas of the body.
Anatomy of the Spirit also presents Dr. Myss's long-awaited model of the body's seven centers of spiritual and physical power, in which she synthesizes the ancient wisdom of three spiritual traditions - the Hindu chakras, the Christian sacraments, and the Kabbalah's Tree of Life. With this model, Dr. Myss shows how you can develop your own latent powers of intuition as you simultaneously develop your personal power and spiritual maturity. As you begin to understand the anatomy of your spirit, you will discover the spiritual causes of illness, as well as how to sense and correct an energy imbalance before it expresses itself as physical illness, and how to recover emotionally and physically from an ilness you may already have. By learning to see your body and spirit in a new way that draws on old truths, you can begin to develop a spiritual maturity and authority that will change your life.